In House Support Team
Direct care can take a few different forms. One way you can give direct care is by joining our In-House Support Team. Since Bethesda House is not a fully-staffed shelter, but rather a home that gives mothers and babies a safe place to thrive, we depend on faithful volunteers like you to provide needed support to both moms and babies during the day and evening. What might that look like? Our programs work best when we have support here for mornings, afternoons, and evenings. And depending on the time of day, the support may look a little different, but it will always focus on modeling and encouraging good overall practices and life skills while prioritizing Christian values. Support could include infant care, encouraging good habits and routines for moms, teaching basic meal planning and prep skills, or reinforcing goals that moms and leaders have set together. Programs are tailored to each mom depending on their set goals and with your support, we can maximize their opportunity for success. See the BH Support Team information below to see which time would work best for you and don't hesitate to contact us for more information!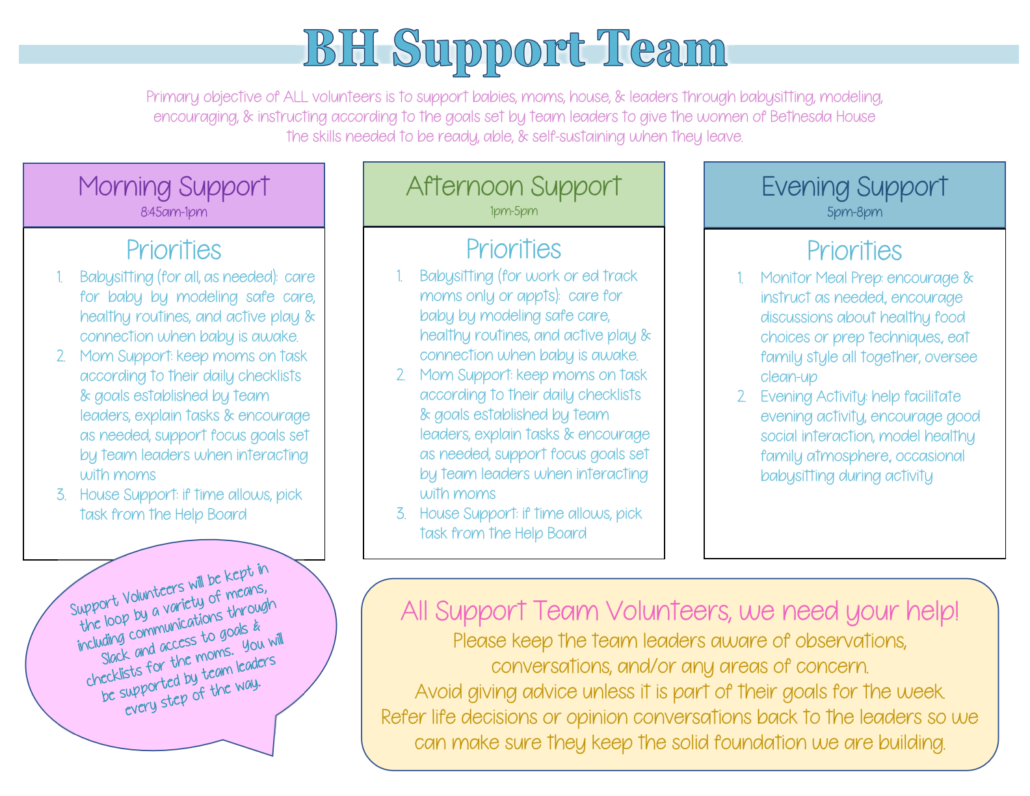 Transportation
With a lack of public transportation on the South Shore, we rely on volunteers to drive the moms to and from their schooling, doctors appointments, etc.
---
There are numerous opportunities to use your God-given talents for direct care volunteering that can fit just about anyone's schedule, depending on your availability. Everyone's help is valuable!
Please note that these positions require that you sign the Bethesda House Statement of Faith.
No one can do everything, but everyone can do something.
If you would like to work directly with mothers and babies, you must sign up for a volunteer training session which are typically about 3-hours and held every other month. You can also attend a training session to familiarize yourself with our organization, our mission, and with the various ways to support Bethesda House. There is no volunteer commitment when attending.
Please note that all positions require that you sign the Bethesda House Statement of Faith.
** If you need to cancel, please email mp@bethesdahousema.org so that we may assign your seat to another registrant.**
CURRENT NEEDS:
In-House Support Team
Morning Support (8:45am –1pm)
Afternoon Support (1pm–5pm)
Evening Support (5pm-8pm or until 9pm on Friday Movie Nights)
Transportation
---
If you have already completed a training session and are able to help Bethesda House in any of these areas, please contact Missy Porter at mp@bethesdahousema.org. If you have not completed a training session, please use the form below and schedule your session to learn about the ministry of Bethesda House.
In all things I have shown you that by working hard in this way we must help the weak and remember the words of the Lord Jesus, how he himself said, 'It is more blessed to give than to receive.'
How To Become a Bethesda House Volunteer
Register for a direct care volunteer session below prior to attending one of the events.
Print and complete the following three forms and bring them, along with a photo ID, with you to your training:
All training sessions are held at First Baptist Duxbury at 2 Tremont St., in Duxbury.
We welcome you into the family of Bethesda House!
Register for an upcoming session: